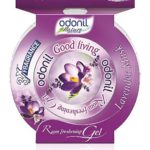 Odonil Room Freshner (140gm)
Description
Odonil Room Freshening Gel offers a fine selection of nature-inspired scents to keep your room fresh and fragrant.
It Comes with fragrance control mechanism to calibrate the amount of fragrance
It keeps your bedroom and living room fragrant for a long time.
It's Available in 2 different sizes – 50g & 75g
Available in 6 different fragrances – Jasmine, Lavender, Rose, Citrus, Strawberry & Passion Fruit .