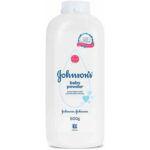 Description
Absorbs excess moisture for silky soft skin.
It is a safe talcum powder made especially for babies
Helps eliminate friction
Clean, classic baby-fresh scent
Clinically proven to be gentle and mild for your baby's skin
Triple Baby Protection
Keeps babies feeling fresh and playful
Dermatologist-tested and hypoallergenic.
We love babies.
And we understand how to protect your baby's soft delicate skin. That's why we have designed JOHNSON'S® baby powder to protect baby's skin from excess moisture and leave it soft and smooth. It's a classic. JOHNSON'S® baby powder helps to eliminate friction while keeping skin cool and comfortable. Unlike adult powders, JOHNSON'S® and JOHNSON'S® baby powder is safe and is made of millions of tiny round slippery plates that glide over each other to help reduce the irritation caused by friction and thus providing soothing comfort to your baby.
With a clean, classic scent, this incredibly soft baby powder formula awakens and stimulates your baby's senses making your baby feel fresh and letting your baby play happily with everyone.
Mums trust JOHNSON'S® Always Mild, Gentle and Effective.
Is JOHNSON'S® baby powder safe for my baby?
Yes! Every particle in JOHNSON'S® baby powder is carefully made to keep your newborn comfortable and has passed over 30 safety and quality tests.
Is talcum powder safe for my baby's skin?
JOHNSON'S® Baby talc products are made using U.S. Pharmacopeial (USP) grade talc to ensure it meets the highest-quality, purity and compliance standards. Our talc is carefully selected, processed and tested to ensure that is asbestos free, as confirmed by regular testing conducted since the 1970s.
Our confidence in using talc is based on a long history of safe use and more than 30 years of research by independent researchers, scientific review boards and global regulatory authorities.